Mojácar, Traditions, festivals and surroundings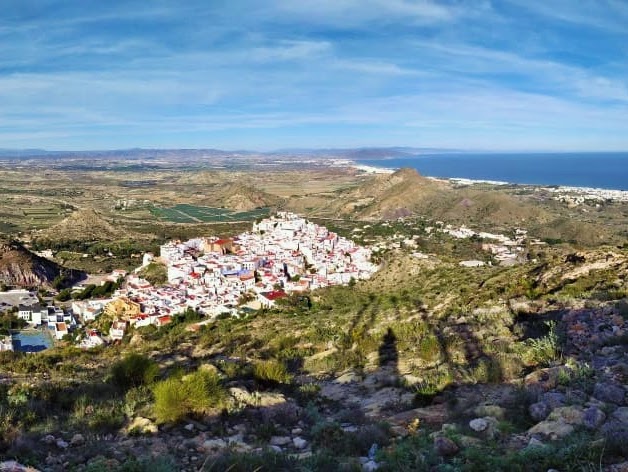 LOCATED IN ANDALUSÍA IN THE PROVINCE OF ALMERIA
Mojácar is a white Andalusian town located in the province of Almería. It is perched on the top of a steep hill overlooking the sea, and offers exceptional views of the surrounding villages. The Old Town is a maze of narrow, winding streets where the curious can get lost among its flower-filled white houses.
What to visit in Mojácar?
Here are some of the most popular places to visit in Mojácar:
One of the Best and quiet places of Mojacar
rich history dating back to
the Bronze Age
MOJÁCAR is known for its white-washed houses
MOJÁCAR is famous for its "Indalo" symbol
Located in Andalusía in the province of Almeria
Mojacar is one of the most beautiful villages in Spain. Perched on top of a volcanic hill towering above the sea, the village offers an extraordinary landscape with a view of the villages of Bédar, Turre and till Cartagena when the sky is clear.
The old town is a maze of winding narrow streets around white houses, inviting the curious to stroll amongst the flowers of this enormous garden (jasmine, geranium, bougainvilleas…).
Saved from depopulation in the 1960s, the village became the favourite place of a lot of artists and foreign people that enjoy its quietness, as an oasis far from the mass tourism. 
Nothing is better than a tour of Mojácar to walk and breathe the fresh sea air and the smell of the wild plants (thyme, sureja, fennel …) that we find in Sierra Cabrera. The variety of its landscapes between sea and mountains, rock and sand makes Mojácar a magical and unique place for everyone's pleasure.
Today this influence from the past gives to Mojacar a bohemian and relaxed feature, attracting those who love nature, hiking and cycling.