Beaches and Towns of Cabo De Gata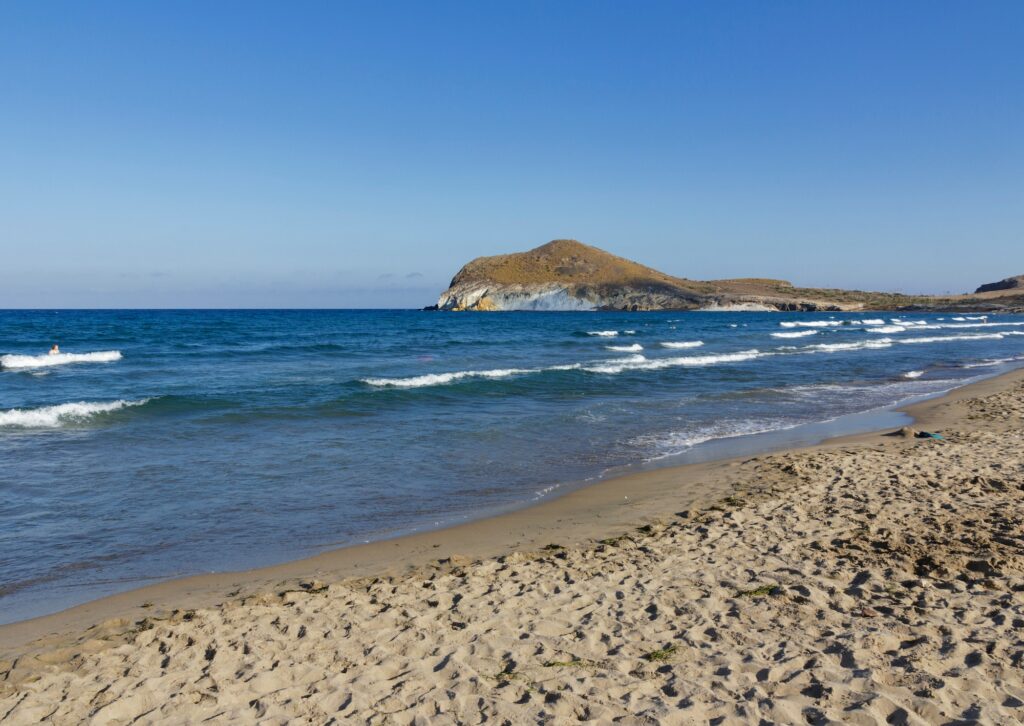 Cabo de Gata is a natural park located in the province of Almería, Spain. It is formed by a mountain range that stretches along the Mediterranean coast. The park is known for its pristine beaches, its hidden coves and its varied fauna and flora.
It is a popular tourist destination, but peace and quiet can still be found in many of its corners. The park offers a variety of activities for visitors, including hiking, biking, swimming, diving, and fishing.
An ideal place to relax and enjoy nature. It is a perfect destination for families, couples and groups of friends.
From the village of Mojacar, going down to the beach and continuing to the right (heading south), you will take a coastal road and with incredible views, the first coastal village you will find, after 35 minutes by car, is CARBONERAS.
In the village, in addition to the old town, you can find a nice walk on the beach with good restaurants and a sandy beach. 5 minutes from the coastal town of Carboneras is the first beach of Cabo de Gata (Playa de Los Muertos).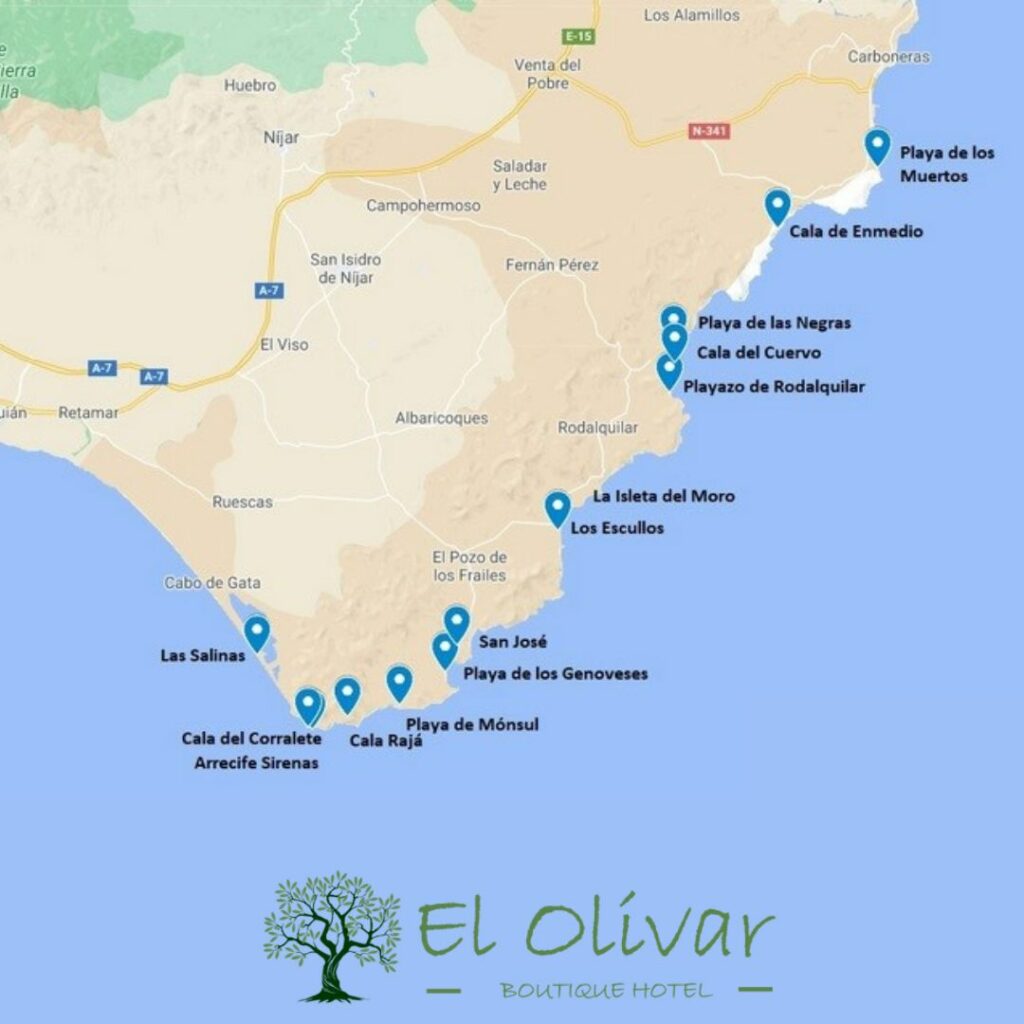 PARKING IS MUNICIPAL AND HAS A PRICE OF € 4 / DAY. Once parked the car will take you about 15 or 20 minutes down and I recommend comfortable shoes for the slope and the small rocks. The beach has a length of 800 meters and the water is crystal clear, ideal for snorkeling. On the beach there are no beach bars so I recommend bringing water and a sandwich.
Continuing south, less than 4 kilometers from Playa de los Muertos is the town of AGUA AMARGA. A nice coastal village with a main square with good fish restaurants. The village of Agua Amarga also has a nice sandy beach surrounded by mountains.
CALA DEL MEDIO and CALA DEL PLOMO
CALA DEL MEDIO and CALA DEL PLOMO meet before reaching the next village LAS NEGRAS, a small and slightly neglected village reminiscent of a hippie period.
EL PLAYAZO DE RODALQUILAR
EL PLAYAZO DE RODALQUILAR is a beautiful beach with a castle, easy to reach by car and free parking. From the beach of Rodalquilar you can take a coastal path that starts to the left of the castle and passing over some flat rocks you can reach the beach of Las Negras.
A 15-minute drive from the beach of Rodalquilar you reach  the ISLETA DEL MORO, a beautiful fishing village that is just before the PLAYA DE LOS ESCULLOS.
PLAYA DE LOS GENOVESES and MONSUL
Following the road, and 75km from Mojacar (one hour by car) is the town  of SAN JOSÉ, the ideal place to start the view of two beautiful beaches:
PLAYA DE LOS GENOVESES and MONSUL
They're movie beaches, and that's literal because they've been in so many movies. They have fine sand and crystal clear water. They are surrounded by beautiful sand dunes.
You can drive to the Playa de los Genoveses car park, but in summer the car park fills up very early and they close it when there are no more spaces available.
Then you have two options: One is to walk from San José and it will take about 30 minutes. The other is to take the bus from San José, during the summer months it connects San José with Playa de los Genoveses and Playa Mònsul. The price of the bus is 1 euro.
The beach of Mònsul is like smaller and rockier. In addition, these rocks have a very dark hue, of volcanic origin, and contrasts greatly with the colors of the sand and the sea.
The road ends up passing the salt flats and reaches  the CABO DE GATA LIGHTHOUSE, where from a reef you can enjoy an incredible panorama and you can go down to the ARRECIFE DE LAS SIRENAS.
A 15 minutos de coche desde el playazo de Rodalquilar se llega a la ISLETA DEL MORO, bonito pueblo pesquero que se encuentra justo antes de la PLAYA DE LOS ESCULLOS.